Accommodations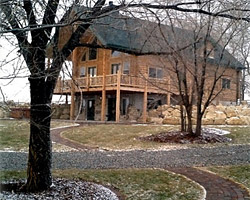 The Lodge at Pheasant Run Outfitters was built specifically to provide hunters and other guests with all the comforts of home. Nestled in a beautiful oasis and surrounded by over 600 acres of picture-perfect upland habitat, the views of the surrounding mountain ranges, fields, and valleys are spectacular. The hunting might remind you of "The Good Old Days", but the lodging won't. Beautifully appointed with rustic furnishings, each sleeping room features two queen beds and its own bathroom.

A spacious and tastefully appointed living area and full kitchen provide the perfect place to gather after the hunt, swap stories and strengthen relationships, which are some of the most important activities of any hunting excursion. There is plenty of room to relax and enjoy the vistas or watch wildlife during the daylight hours, or in the evening - count the stars. Yes, in Fayette, you can actually see the stars! Dish TV and Wi-Fi are available for those who need to communicate with family members back home, conduct business, or watch your favorite team play. The Lodge at Pheasant Run Outfitters is the perfect place to relax, unwind and enjoy.

Just adjacent to our beautiful lodge you will find the Pheasant Run Clubhouse. If the Lodge is the place to sleep and relax, the Clubhouse is the place to eat and have fun! Kitchen and dining facilities are adequate enough to serve upwards of 200 delicious meals per week. It's the perfect gathering place for a game of pool, playing cards, or watching one of the three big screen TV's. There is something primal about a man and a fire. Hence, our conveniently located patio with fire pit and sit wall is quickly becoming our most utilized and popular feature on the ranch.

This is also where you will find our conference facility. Effective meetings can only be successful when the surroundings are comfortable, appealing, and aesthetically pleasing. Lots of seating, a large screen TV, AV equipment, and more - are all available for your use. When combined with fantastic accommodations, delicious meals, an exciting pheasant hunt and the unique setting found only at Pheasant Run Outfitters, you have set yourself up for a successful meeting of any kind.


Click on the images below to view a larger display.


Clubhouse Dining and Classroom

Lodge Living Area

Lodge Main Floor

Lodge Sleeping Room

Main Lodge Bedroom

Meeting Room - Seating for 20

Meeting room

Photo 1

Photo 2